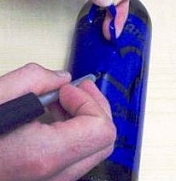 Question:
I am trying a few different types of vinyl when I sandblast my mugs. And I have to turn the pressure way down on my cabinet. It is taking a long time to sand blast and was not sure if you had some suggestions on what type of vinyl to use. I tried the vinyl it said in secrets to glass etching book an it did not seem to work. Maybe something a little thicker? Not sure, any help would be greatly appreciated. Thanks.
My Answer:
If your talking about the removable Oracle brand that I talked about, its only three mils thick. You have to use a fine grit to sandblast at higher pressures. I use a 180 grit to blast with this vinyl and sometimes I'll even carve fairly deep with it.
For a guide, as the grit becomes finer, the thinner the vinyl can be and the higher the pressure can be use without penetrating through the stencil. Another thing that you can do (I do this every once in awhile) is double the vinyl up before you cut it. Its not too hard either. I talk about in this in a comment on my blog about the decoration designed etching: glassetchingsecrets.com/blog/decorationdesign/.
---
Share this on social media or email by clicking below!