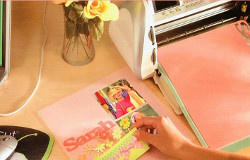 I have been getting a lot of questions regarding the Cricut for making stencils and software to use with it. I am not a big fan of the Cricut now since you can't use third party software. Read the question and answer below along with the comments in this post about using Cricut to make etching stencils. As below states, there is software available to help you design stencil.
Thanks Eric. I want to make stencils using my computer. I tried to download your suggested Sign Blazer from Glass Etching Secrets but it doesn't work with Cricut. I think I should have purchased a different cutter. I tried SCAL and it doesn't work either. Thoughts?
John,

Sign Blazer will only work with compatible cutters. You would have to ask the retailer.

Did you read page 61? I believe you have to buy all stock patterns through cricut now. There is a software program from Cricut called DesignStudio here: http://amzn.to/xvfpQp

But you still have to buy all the patterns and can't make your own.
---
Share this on social media or email by clicking below!