Do you know of any solution I could use to etch Stainless steel?
Thanks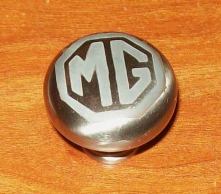 I have used the sandblasting method on steel objects before, and it worked okay. You can see a picture of a metal knob that I etched with a logo.
It's hard to get the stencil resist to stay on without being blasted off though. An even better way is to use an electrolysis method.
You can make the solution by mixing regular white distilled vinegar with salt. To do this, simply follow my directions below:
Clamp the positive (red) wire of either a battery charger or battery to the metal.
Dip a Q-tip into the etching solution.
Clamp the the negative (black) wire to the wet part of the Q-tip but at the top end of it.
Turn on the battery charger and slowly rub the wet Q-tip over a stencil.
When you rub the Q-tip over, you should here a small burning sound.
Note: There are some battery chargers that will not work with an open circuit so be sure to get the right one or use a battery instead. Those small rectangle 9 volt batteries should be sufficient.
-Eric
---
Share this on social media or email by clicking below!