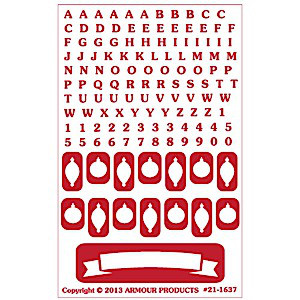 Over 'N' Over Reverse Ornaments Glass Etching Stencil Sheet features reverse etching. Reverse etching means the backgrounds can be etched leaving the letters clear following these easy instructions 1. Place design of your choice onto glass item. 2. Place your chosen letter/number in center of open area. 3. Etch according to included directions. Sheet includes various ornament backgrounds, a banner background, and multiple letters for entire uppercase alphabet and numbers 0-9. This sheet can also be mixed and matched with other Over 'N' Over stencils in this series to create even more unique combinations to fulfill all your creative needs. Approximate dimensions for letters and numbers are .25″ tall, etched area ornaments are approximately .5″ x .5″, etched area banner is approximately 2.75″ x .5″.
Specs: 5″x8″ reusable adhesive-backed stencil sheet; used for painting, cream etching and light sandblasting (recommend fine grit 180-220)
Product ID: 21-1637 – ONO Reverse Ornaments
Price: $6.49
---
Share this on social media or email by clicking below!