Jennifer Roy sent in the latest sample of etchings and I liked the ideas, especially of etching a whiskey bottle! The photo shows a whiskey bottle that she etched with the stencil positioned on the left and the completed etching on the right.
Thinking more about this, you could etch a nice flask too since many people like those as gifts. I found some glass flasks here or you can search through the Amazon listing here. Many flasks are made of stainless steel which could be etched also with sandblasting. You can see an example of a design I etched into metal with my sandblaster here.
Just like Jennifer's idea of etching a whiskey bottle, you can do this with wine or champagne bottles also! I haven't tried the whiskey bottle yet and I think this is a great one since whiskey or any liquor usually isn't consumed in a day. It would be a interesting gift to decorate a liquor cabinet with.
Jennifer was nice enough to share how she etched these projects and some tips below:
I choose my glass for the project. Clean it with soap and water and dry completely. Then I design my stencil onto the vinyl. Attach it to the project then cut it out. Wipe away any smudges on the glass with a CLEAN soft cloth. Apply the etching cream, wait anywhere from 3 minutes to 10 minutes. Depends on the glass how long need to leave on. Whiskey or beer bottles have to leave on longer. ( Think colored glass has a lot to do with it) Then carefully wash or wipe it off. CAREFUL not to get on areas that you don't want etched.
She also cut out the below stencil of a duck in a pond, applied it to glassware and etched it. It's a great way to spice up plain boring glass.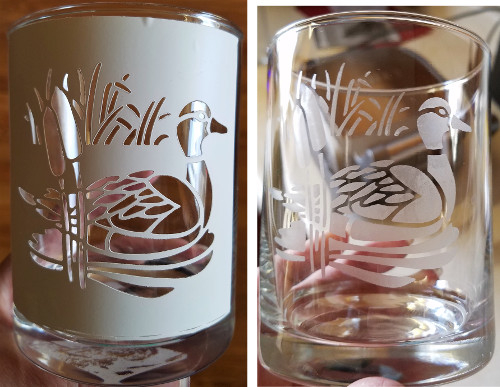 Thank you for sharing, Jennifer! Please leave her some comment love below or ask any questions to either of us. Thanks
---
Share this on social media or email by clicking below!