Learn to Etch like a Pro Inexpensively with Sandblasting, Chemicals, Sandcarving, & Others
Stop etching the hard way! Here's how to etch glass with Advanced money saving tactics & turn any project into a professional looking art glass….
Click the Play Button to Watch the Video Below!
Easily Etch Glass Projects Yourself !
References & Guides for professional etchings
Etching Techniques
Tips for Saving Thousands off equipment
Resources for Reviewed Supplies
Etching has become an interesting way to personalize glass permanently and create a meaningful art design. As the art of glass etching & sandcarving has increasingly become more popular, I decided to share this information for more than one reason so you can create elegant etched glass products like a Professional, even if you have no artistic abilities, while saving thousands of dollars!
Discusses all types of etching inside such as:
Sandblast etching
Cream Etching
Sand Carving: (Expanded info. in Membership area only)
Acid Etching: (In Membership area only)
Rotary Engraving: (In Membership area only)
(A significant part focuses on stenciling techniques, sandblasting, acid cream etching, & sand carving, but I will discuss information on all types) Choose an option or read more below:
Glass Etching Secrets Ebook
Access our basic ebook
+ All Bonuses Listed Below

$19.99/ once
Membership + Ebook
(Best Value)
Access Members Area
+ Ebook with Bonuses
Monthly Videos
Expanded Information
Step by Step Tutorials
Downloadable Guides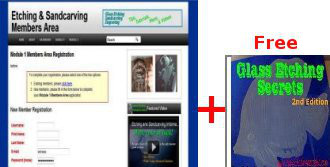 $24.00/ month
* Can cancel at any time
Includes Everything
Support within 24 hours
Plus Access More Modules Sooner





* Can cancel at any time
$49.99/ month

These little known secrets are released to make everything Easier, Quicker, and extremely Inexpensive for you. Now you can easily etch personalized designs into glass.
Read below of just some of the benefits & some of the topics you will learn:
Discover How to Etch Glass
I like to start off by showing how to etch glass first for those that are new to etching glass. This will show you how to create an awesome etched glass, personalized exactly the way you wanted it. This resource goes over all the processes from the basics of finding designs, to creating the stencils, and etching the final custom made product.
Step by step tutorials are included inside with pictures of how to sandblast glass and steps for cream etching for those craft folks. Plus my new membership site provides complimentary videos & updated information for more advanced topics and money saving solutions.
Then it goes on to help Save Money, Time, and Frustration with advanced solutions, while explaining various equipment used.
"Membership Details & Price?"
Lets do a quick comparison – last time I checked, etching equipment & supplies can cost thousands of dollars. With the knowledge provided here, you can get some etching equipment FREE and others for pennies on the dollar. In addition, other valuable information sources can cost nearly double our discounted price. And they don't discuss the secrets revealed to save essential time & money as "Glass Etching Secrets" explains.
Since, you will be downloading & accessing everything online- I'm not going to charge you anywhere near this resources value. I just want to build up a like-minded community and get these low cost sources out to more people by lowering the price.
Basically, I have three options:
Option 1: Download my Original Ebook Priced at $19.99
Option 2: Sign up for my New Monthly Membership site Billed at $24.00 each month
For your convenience, you will be billed each month
Also, get a Free copy of the "Glass Etching Secrets" ebook
Access to videos, expanded information, & more tutorials
Support through commenting
You can cancel your membership at any time
Option 3: Sign up for the Pro Version of the Monthly Membership site Billed at $49.99/ month
Billed each month
Get Copy of Everything + More Modules Right Away
Support within 24 hours
The membership site works on a monthly basis. I will be releasing a new module each month and conveniently be auto-billed every 60 days.
But there's more because you'll also get…
I am not sure how long these will be available, but may take them off and sell them separately. You can get all of them today for a Limited Time. So enjoy this information's further free guidance to cost saving.
Advanced Glass Etching Techniques and Strategies: This guide explains the different advanced techniques such as Single Stage Etching, Multi-Stage Carving, and Shading.

With a step by step tutorial!

The Graphic Software Free Guide: Graphics software can do wonders for you to enhance your stencil design and allow you to personalize it anyway you want. These programs can cost Hundreds of DOLLARS, but this will show you where to get it FREE and save you a lot of money. (Learn to save $700 and get it FREE)
The Graphics Vectorization Software Free Guide: Vectorization software allows you to convert graphics into a sophisticated format to allow enlargement possibilities with a click of a button. These are nearly a few hundred to a few thousand dollars. In here, you can find out how to get this software FREE and see all the other advanced possibilities with it! (Learn to save $600 and get it FREE)
Links to Free Designs I use for Some Glass Etching Projects: A lot of people don't know about all the free designs that are available on the web and they're hard to find. In here, you can find the secret links to hundreds of different graphics for FREE
Links to Thousands of Resize-able Vector Logos: Get the inside scoop on the secret links to thousands of FREE logos from the sophisticated Vector Graphic Format. Some of the graphics include your favorite brands such as College Logos, Ferrari Logos, BMW logos, Nearly Every Car Logo, and Sports Team Logos (value $100)
Sandblasting with Different Glass Types: Before you sandblast on glass you have to know the limitations for the certain type of glass. This guide goes over Annealed glass and Safety Glass, which is comprised of Tempered and Laminated glass. Know what you can and can't etch into these different types of glass before its too late!
100% Risk Free Guarantee:
If my resources don't provide you with any helpful information, and you aren't 100% satisfied, then send me a quick email and I'll happily refund you in full within 60 days. This way you have no risk in getting access to either my "ebook" or "Members Only Area!"

Order and log in instantly…… Choose an Option Below. You can cancel at any time.
Glass Etching Secrets Ebook
Access our basic ebook
+ All Bonuses Listed Above

$19.99/ once
Membership + Ebook
(Best Value)
Access Members Area
+ Ebook with Bonuses
Monthly Videos
Expanded Information
Step by Step Tutorials
Downloadable Guides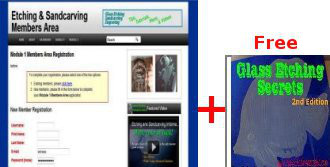 $24.00/ month
* Can cancel at any time
Includes Everything
Support within 24 hours
Plus Access More Modules Sooner





* Can cancel at any time
$49.99/ month

Join Our Growing Community
Here's How To Right Now!
Simply click the bright orange button above for a desired option. Once your payment is approved by either the secure Paypal or Clickbank processor, you will be redirected to a special login page. This is where you will create a log in account and get automatic access. (Any problems, just email me)
With this resource's breakthrough, you can access and learn in just a few minutes…. with insight into cost saving, stenciling, and advanced glass etching art!
Eric Robert
Author, "Glass Etching Secrets & Members Administrator"
P.S. You'll be amazed at how simple and easy it is to start making customized stencils & how to etch glass with the techniques revealed inside. You won't have to cut stencils by hand or use processes of continuously transferring to different stations when I show my sources at no risk!
If you need help, please email: