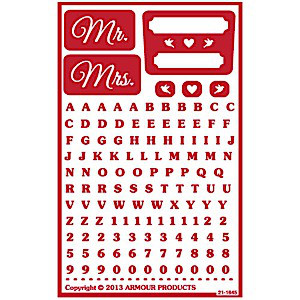 Over 'N' Over Reverse Mr. Mrs. Glass Etching Stencil Sheet include stencils for Mr. Mrs., 5 sets of uppercase letters for the entire alphabet in standard font, 5 sets of numbers 0-9, hearts and blank decorative spaces. Reverse etching is also included on the sheet. In a reverse etch the background designs can be etched leaving the letters clear. Dimensions of letters and numbers are .25′ tall, etched area template approximately 2.5″ x 2.5″, Mr. and Mrs. approximately 1.0″ x 2″.
Specs: 5″x8″ reusable adhesive-backed stencil sheet; used for painting, cream etching and light sandblasting (recommend fine grit 180-220)
Product ID: 21-1645 – ONO Reverse Mr Mrs
Price: $6.49
---
Share this on social media or email by clicking below!