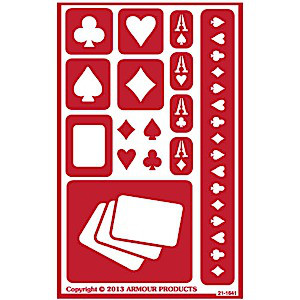 Over N Over Poker Party is commonly used a group of friends and other poker parties. This is totally found in gambling location or areas. It has more hard paper with ACE, HEART, QUEEN, KING etc. I don't like personally this like of poker and no want to play anything like this. I will not happy to see like this of game.
Specs: 5″x8″ reusable adhesive-backed stencil sheet; used for painting, cream etching and light sandblasting (recommend fine grit 180-220)
Product ID: 21-1641 – ONO Poker Party
Price: $6.49
---
Share this on social media or email by clicking below!