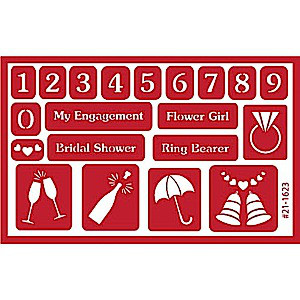 These are perfect stencils for a wedding, Christmas, new years or other holiday events. Text includes My Engagement, Flower Girl, Bridal Shower, Bring Bearer. Number are 1-9 and 0 (numbers 7/8″ or .875″). There is wine opening up with a 'pop', Wedding Bells, Umbrella, and Two Champagne Glasses 'tinging'. The stencil is white with a red background color.
Specs: 5″x8″ reusable adhesive-backed stencil sheet; used for painting, cream etching and light sandblasting (recommend fine grit 180-220)
Product ID: 21-1623 – ONO Numbers in wedding font
Price: $6.49
---
Share this on social media or email by clicking below!