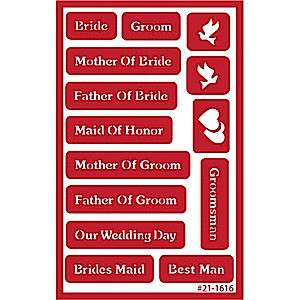 This is an assortment of rectangular wedding day captions: Bride, Groom, Mother of Bride, Father of Bride, Maid of hOver 'N' Overr, Mother of Groom, Father of Groom, Our Wedding Day, Brides Maid, Best Man, Groomsman. Small image of doves left and right. And two hearts.
Specs: 5″x8″ reusable adhesive-backed stencil sheet; used for painting, cream etching and light sandblasting (recommend fine grit 180-220)
Product ID: 21-1616 – ONO Wedding
Price: $6.49
---
Share this on social media or email by clicking below!