Visitor Asks: Can the cream be tinted, so the design has some color?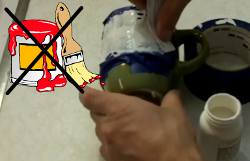 I get asked this all the time which is understandable because the typical hobby cream is hard to see. A quick answer to this question is- No you can't change the color or make colored etching cream because the white is a result from the glass being eaten away. But there are solutions to make your etchings colorful and more noticeable which will be discussed below. There really isn't any type of additive to mix with the cream, so the result doesn't give color.
But as I said before, you can use glass paint after you have the glass etched or use a product known as Rub N' Buff. After you wash off the cream, you can leave the stencil in place and paint over it.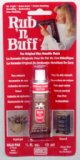 I always recommend transparent paints. You can dilute some of them to. There is a wide selection of vibrant Rub N' Buff colors to pick from, and you can check out some of them on Amazon.com here. If this post was helpful or if you have a question, please leave a comment below.
Some of the posts below may also be helpful for you to enhance your creams etching also:
---
Share this on social media or email by clicking below!