Now that Spring is here and Summer is approaching quickly, it's that time of year for many couples to start getting married. The wedding industry can be one of the biggest niches to etch and sell products to as I discussed before. Whether you etch for fun or for a business, these can be great gifts.
I have etched a few wine & champagne bottles before for friends, family, & friends of family. Most of them are fairly simple, but are still unique & thoughtful ideas for a person's wedding.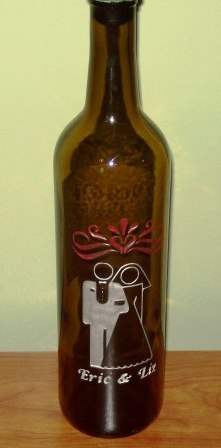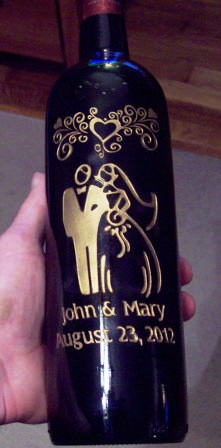 I typically put together designs that has the following components:
Some type of ornament art or icon design which adds a little flair
A image of a bride & groom
Their names
And the date they got married
It can look even cooler when you add in paint as I discussed in the member's area here. Usually, I like to experiment with the design and colors to see how it looks on old wine bottles first. In the photos above are two of the different designs that I am experimenting with. I am trying to figure out which design and color looks best.
What does everyone think? Leave a comment below and feel free to upload any wedding projects you have been etching lately. I hope this post gave you some ideas.
---
Share this on social media or email by clicking below!