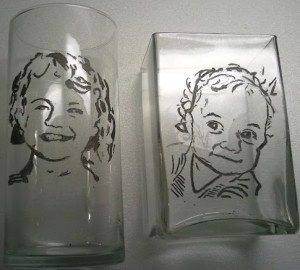 We are featuring Kevin Retelle today with his rotary engraved glasses. I have done a similar personalized glass like this before, but used the sandblasting process and different software, but I haven't documented it well, so this makes a great fit! It is a lot simpler than other methods such as using a halftone photoresist process or shadeblasting, but this is less time consuming and easier to get loved one's faces on glasses. He provided the below steps on how he engraved pictures of his granddaughters with a sketched design.
1. I first took the photo of my granddaughters sent to me from my daughter via Gmail and downloaded them into Adobe Photo Shop.
2. Once I did that, I selected Filter, selected Sketch and then clicked on Photo Copy to get the photo close to what you see.
3. I then adjusted the Detail and Darkness to get it to the final image.
4. I then reduced the sizes of each piece to fit the glass vases and printed them.
5. Using rubber cement, I attach the images to the INSIDE of the vases. (Be careful not to use too thick of glass due to the fact it could distort your position while cutting).
6. Once positioned, I took my Micro-Pro by Mastercarver and used a round fine tip diamond head bur to outline and cut the finer lines.
7. Once that was done, I went back over the wider lines with a coned shaped fine sanding stone to smooth it all out.
8. After finishing sanding, I used Rub and Buff to make it all pop. It was my second attempt at engraving and had a blast doing it.
I plan on continuing to do faces of family and improving my craft, eventually go out into the market to sell.
---
Share this on social media or email by clicking below!