Q: Can tempered glass be etched or carved? Many people tell me that it can not.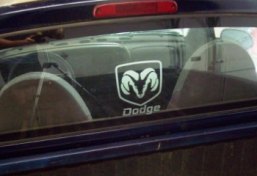 A: Tempered glass can be etched but carving it can be a different story.  If you carve tempered glass too deep, it can shatter. I lightly etch tempered car glass all the time with no problems. You can see an example of a Dodge Ram logo etched in my rear window. I also made a video on it here.
Some people tell me that they have been carving  it fairly deep, but even if you carve it without shattering, it is more vulnerable to shatter in the future.  Also, I don't recommend carving a large area on a large sheet because that can weaken it quite a bit.  As a sheet gets larger, there are more forces placed on it such as wind and the weight itself.  Use some of the tips I showed you in the bonus section of the etching manual (glassetchingsecrets.com/info.html) for the cautious techniques.
The best way is to carve the glass in its annealed state before its temper treated. So carve a regular piece and then have it tempered if a building code requires it.
On the other hand, it's not a problem at all to etch tempered glass with the chemical cream. Hope that helps.
---
Share this on social media or email by clicking below!