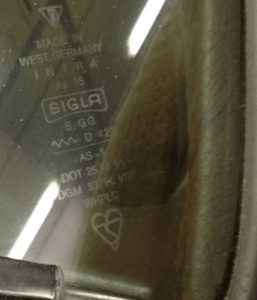 I recently received the below question from Steen asking about how to etch the original mark and safety details:
I am restoring my old Porsche 911 from 1979, and since the aim is to make is as original as possible, I would like to know If it is possible to re-create original marking of the windshield. I will forward a picture of the original marking and look forward hearing from you. Thank you.
Kindly regards
This is a great question. I believe most windows are marked via a laser engraver but I am not 100% certain on the method used today.
So here is a list of ways that you may achieve this:
Ask a Laser Engraver Shop– You could try asking a sign shop that has a laser cutter/engraver to see if their equipment can do this.
Do It Yourself with Photoresist– Or the other method is to do it yourself by making a photoresist stencil and using either process:

Cream etching– most photoresist material sold today is for use with sandblasting. However, I have seen one manufacturer offer the cream etching photoresist. An alternative route is to use PCB stencils which is abbreviated for "Printed Circuit Board."
Light sandblasting– the photoresist widely available is developed with a thin layer that needs to be sandblasted.
Creating Stencil with Photoresist vs. Cutter Machine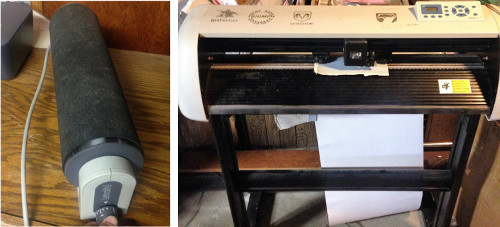 Since Steen needed to etch very fine details shown in the picture, the photoresist is probably the only route that would develop those small, intricate letters, numbers, and designs. Most cutters can't do too great of a job this small.
However, if your graphics are slightly larger, you may be able to cut an inexpensive stencil with a vinyl cutter. I created an example of the fine details the photoresist allowed me to etch in the top image here and some fairly intricate details cut out with the vinyl cutter in the bottom example.
Process of Creating Photoresist Stencil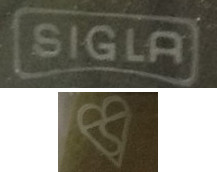 As linked before, this briefly explains the photoresist stencil process. However the next challenge would be to design the art for printing. In this example, I would start by doing a Google Image search for the "safety glass marking designs" or some variation of that. I had little luck. Then I tried searching for the iconography and found some of the designs such as the heart shape and "SIGLA".
If you can't find the designs, you can take a good picture, import into your graphics software and either trace it or create an automated vector. I talked about that in the ebook with free software. Then you would need to find the right font and type the text in.
After it is designed, it needs to be sized in your graphics software (there is measurement marks in the software) and printed on your transparent film. Then it is developed on the photoresist.
---
Share this on social media or email by clicking below!