I recently sandblast engraved this larger rock project, and boy did I forget how heavy these are to pickup and maneuver.
It isn't overly enormous like some of the boulders Ross shared with us here. He actually sandblasted some of those on-site. It is more ideal to transport your pressure pot and gas-powered air compressor to the site for those type of huge boulders. Simply wheel them up onto a trailer or pickup truck- not as much of a hassle as one might think.
I think this recent project was about as big as we typically worked with when I sandblasted rocks for hire a few years ago. At that time, we used a large industrial style sandblaster and cabinet with an inside space measuring several feet in width, length and height. We always sandblasted these large rocks in the cabinet and would lift it with two people.
However, the sandblast cabinet I use in my garage today is smaller with limited space, so this recent rock blasting project had to be done outside the cabinet. Technically, this rock isn't too big, measuring about 1.5 feet high and about 2 feet wide. But we weighted it being about 150 pounds which was quite tough handling by myself. Even if I could squeeze it in my current cabinet, it wouldn't leave adequate room to move my arms inside.
Route to Blasting Large Rocks Without a Cabinet
I actually discussed a few very interesting ways to sandblast outside a cabinet with fairly low cost solutions in the ebook and membership about rock blasting. From those solutions, I decided to use one of the quickest and simplest routes by placing a tarp down on a concrete driveway. After the project was done, I simply picked up the ends of the tarp and funneled the abrasive back into the sandblaster. Another third or so of the abrasive flew farther outside the tarp which was swept up, cleaned and placed back as well.
How I Maneuvered the Rock Myself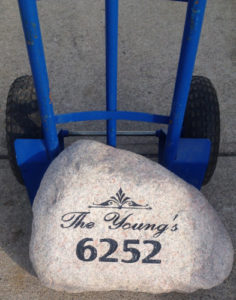 Since I was by myself at the time, I placed some wood boards on the ground to slide the rock over which made it much easier. This both prevented the bottom of the rock and the concrete floor from being scuffed up. Later on, I decided to get a two wheel hand truck dolly which made it super easy to move around. Simply tilt one side of the rock up, scoot the toe plate under and you are ready to move it around.
I used a fair priced truck dolly with pneumatic tires like this one on Amazon here. The large inflated tires make it easy to get over all types of terrain so it doesn't get stuck. It is rated to handle up to 800 lbs.
There are other low cost solutions without the pneumatic tires such as the below:
Other Ideas to Help Move & Lift Rocks
When I sandblasted this rock outside on a tarp, I did the project on the ground which required me to knee down for long periods of time. It can be uncomfortable. So whether you are blasting the rock outside on a table or inside a cabinet, I was thinking of ways to make this easier to lift up to a comfortable height. Here are some of the ideas that you could use:
Hoist with straps
Another idea is to use either a manual or electric ceiling hoist with straps to lift up rocks frequently if you sandblast many of these in a business. However, you would have to install these and probably reinforce the ceiling beams.
You can find many different types of hoists on Amazon here http://amzn.to/2DK5CIo , some of which are surprisingly affordable for electric systems about a hundred dollars. Some type of lift sling such as this one can be added to the sides of the rock.
Manual Stacker Lift or Manual Forklift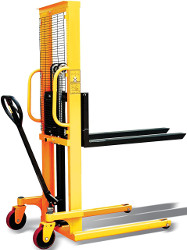 These are probably more for people that have businesses or lift a lot of rocks and items. I wanted to mention these here because I just recently discovered these products existed and I think they are very cool. They are basically a mini, low cost forklift solution that:
is manual powered, walk behind.
costs much less. I've seen some of these cost as low as $500-1,500. It is much cheaper than a forklift that costs $15-30k!
lifts by a hydraulic pump or a winch with either a hand lever or foot lever. Some have both options.
Below are some of the options I have found:
High Cart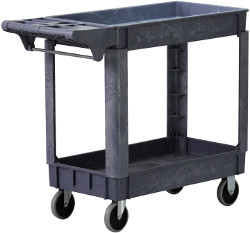 This solution can both help you maneuver large rocks and keep it high enough for you to blast off the ground more comfortably. However, you still need to lift it up on the cart whether by hand or by one of the previous lifting options.
I found this cart which can support up to 500 lbs on Amazon>> http://amzn.to/2ETLnY1
What Are Your Thoughts?
These are just some of the ideas I came up with and found to handle these large rocks. I'd like to hear from you. If you sandblast a lot of rocks, how do you handle them? If anyone has other ideas to add to this list, please leave a comment below. I would appreciate it. Thank you!
---
Share this on social media or email by clicking below!