If you're a general crafter, you may have used cream to etch your glass, which you can read more about here: http://www.glassetchingsecrets.com/cream.html.  Now, this isn't the method I use, but it can be very simple and the start up cost isn't very much.  If you're looking to get into etching, you may want to consider using another more professional solution.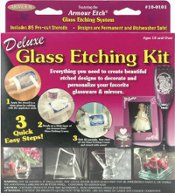 One of the most well know kits is made by the Armour Etch company and the whole kit can be bought here.  It includes things such as the pre cut stencils, the cream (obviously), the brushes, a cutting knife, some glass to practice on, and instructions.  Really, the instructions are easy, and I think you can figure it out for yourself, but if you ever need guidance you can visit the how to page which shows each step.
Looking For the Best Etching Cream- here's my observation
People are always looking for the best cream to use for projects.  Well, I wonder why.  It's because cream does not have a desirable noticeable etching.  Really the best etching solution will be the one that has more acid in it.  The creams are probably all the same. To get the nice, more observable etching, you're going to have to use hydrofluoric acid to begin with.  I talk about that throughout my site and it's very dangerous.  I wouldn't want to have acid transfer through my skin and into my internal body.
Armour Etch is the most recognized etching cream to use for glass.  But there is another brand that I have seen called EtchAll.
---
Share this on social media or email by clicking below!