We offer a wide selection of reusable glass etching stencils here. These are sold under the brand name, Over n' Over because they can be reused up to 20-30 times. These stencils are very flexible and easy to use. Follow the instructions shown below.
1. Clean the glass
Start off by using a glass cleaner and a paper towel or rag to clean the surface of the glass as shown below. Be sure to wipe dry.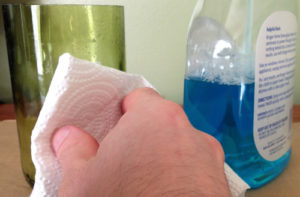 2. Peel off the stencil
Remove the stencil from the carrier sheet. If it does not lift easily, try not to break it. Instead run warm water over the stencil to soften it and try removing it. Be sure to remove any water after removed.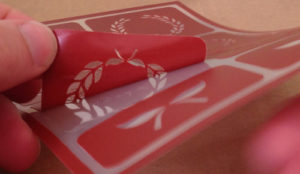 3. Place on glass and apply masking tape around the edges
You may eyeball the stencil in place or align it on the glass evenly by measuring it and using a marker to mark where it should go.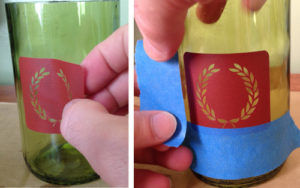 4. Apply a thick coat etching cream & wait (sandblasting can be used too)
You can use a bristle brush, foam brush or even a popsicle stick to apply the cream. Just be sure to apply a thick coat over every part of the stencil so that it isn't visible. Armour etch now recommends that you only leave the cream on for 1 minute. Etchall recommends 15 minutes.
Note: These stencils can also be used to etch with a light sandblasting process at low pressures and fine abrasive such as 180-220 grit.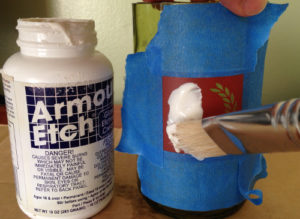 5. Wash off the cream
Run water over the stencil to wash the cream off. I like to use my brush to help rub off the cream while rinsing which also helps clean both. Note: if you have a nice sink and don't want to risk etching it, you might want to use a basement laundry sink since many of those are concrete or plastic.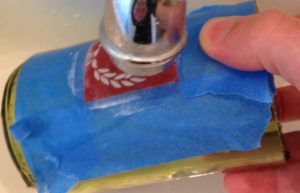 6. Remove the masking tape & stencil
Be sure to save the stencil since it is reusable by placing it back on the carrier sheet.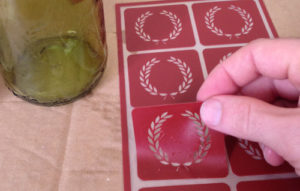 7. That's it!

If you have any questions, please be sure to leave them in the comment section below. Thank you
---
Share this on social media or email by clicking below!